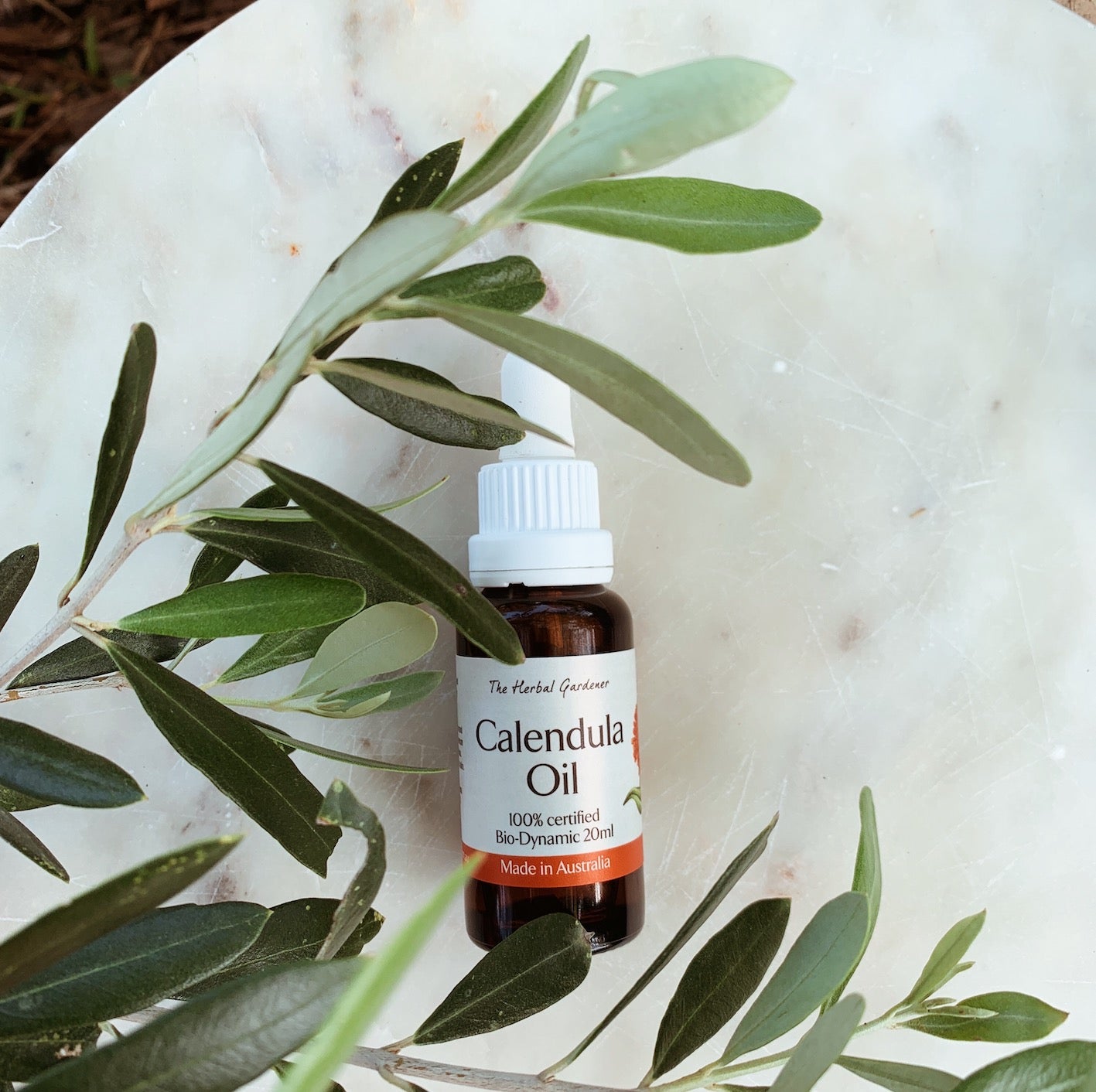 Australian Calendula Face Oil - Certified Demeter Bio-dynamic
Please select all options.
Our Calendula oil is  the holy grail of skin beautification. Pure and simple, it soaks your cells in liquid love. It supports the hydration of your skin while remaining lightweight and non-greasy. 
With a subtle aroma and smooth texture, this  oil creates the perfect product as a night/day facial serum, as a primer, and a makeup remover. Use our calendula oil as a facial moisturising and a natural treatment for deep nourishment, skin repair and renewal. Packed with beneficial health benefits and healing properties such as anti-oxidants and anti-inflammatory properties, it will aid you in repairing and preventing skin imperfections while also minimising ageing (anti-aging).  This applies also to nail and cuticle oil.
Our 20mL facial serum comes in a glass bottle with a dropper or in a 50mL bottle with a small pump.
Our Calendula oil is pure, simple, safe and 100% natural and can be used on both young and mature skin. It has NO mix or blend with any other oils and is essential oil free which means it's suitable for the most delicate, sensitive & reactive skin. Suitable for vegans as well as sensitive and delicate skin.

The complete list of ingredients is:

Organically grown Calendula flowers certified Australian Demeter Bio-Dynamic
Olive oil certified Australian Demeter Bio-Dynamic for the infusion

This facial oil a treatment for:
Skin redness
Rosacea
Acne
Eczema
Psoriasis
Dermatitis
Dry skin
Skin irritation
Sensitive skin
Reactive skin
Nail and cuticle moisturising oil
What is special about our organic Calendula Oil?
It is grown in Australia on our certified farm since 2008. Our Calendula Oil is certified Australian Demeter Bio-dynamic which is the strictest and oldest certifier in the country and it is infused in Australian olive oil certified Demeter Bio-dynamic. We buy the freshest olive oil, bottled just after being pressed directly from the grower.
We infused our calendula flowers dried at a low controlled temperature so no water is transferred into the oil and affecting the end product. The infusion is done over a long period to time so as to not use any heat in the process, ensuring we maintain the integrity of the final product.
It is Australian own, grown and made.
Filtered naturally after 12 weeks of infusion so no chemical are used in the extraction.
Free of essential oil, parabens, synthetic preservatives, artificial fragrances, petroleum ingredients.
Why use a face oil?:

Oils naturally nourish, repair and restore the skin.  Organic oils rich in vitamins with anti-oxydant and anti-inflammatory properties help to fight skin damage.
Oils help to create a natural barrier which prevent the moisture from evaporating out.