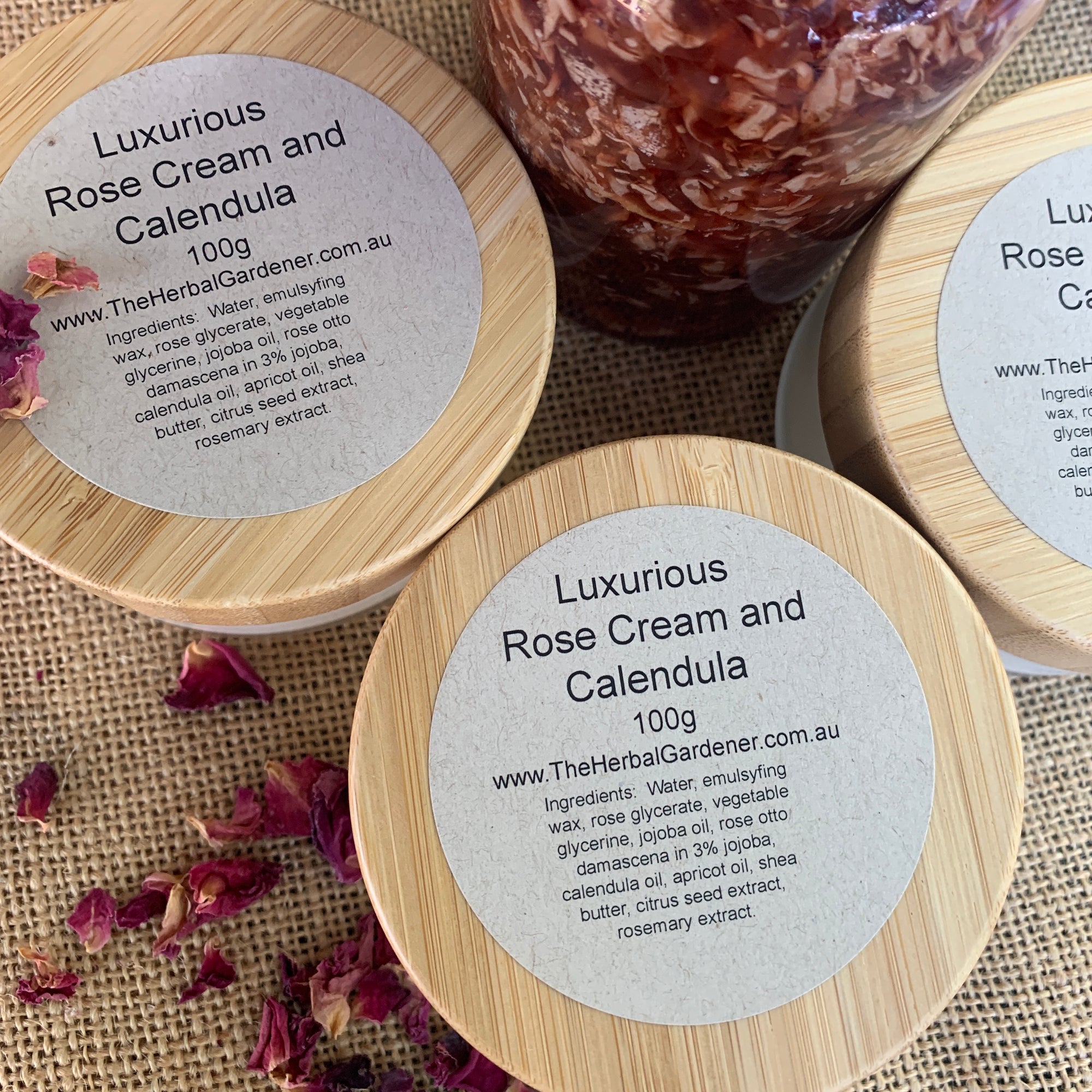 Luxurious Rose and Calendula Cream
Please select all options.
The Luxurious Rose and Calendula Cream  is here.
The Luxurious Rose and Calendula Cream is back and this time for good.  We have improved the presentation with a classic frosted glass jar, a bamboo lid and a seal inside the bamboo lid.
The product though has not changed. It is as beautiful and gorgeous as before.  Rich, silky with a rose scent that deeply nurtures your soul.
When creating this product, I wanted something feeling really luxurious, filled with delicate rose scent, moisturising for facial use and hydrating for the body.
After some trial, here it is
Light, silky, creamy, nourishing
For face and body

A unique blend of Rose infused glycerine, shea butter with our unique calendula infused oil.  The Rose Otto Damascena essential oil completes this formula in a  divine way.  It leaves your skin nurtured, moisturised, hydrated while your soul is nourished and at peace.
Rose has an uplifting effect on the spirit.  Smell the delicate scent as you apply the cream and feel the comfort it brings to your heart.
It is ideal for any skin type and in particular
* facial moisturiser 
* body cream
* hand cream
* for normal, mature and dry skin
* day or night cream
As per all our products, this cream does not contain any synthetic preservatives, petroleum ingredients or artificial fragrances.
It is hand made on a small scale on our family certified property.  It contains 100g of this divine cream. 
The complete list of ingredients is : Water, calendula oil, Rose Otto damascene in 3% jojoba, apricot, jojoba, emulsyging wax, rose glycerate, vegetable glycerine, citrus seed extract, rosemary extract.
The low percentage of essentials oil allows its use as a facial product.
Contains 100g